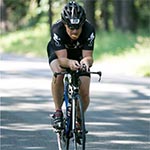 Don Goetcheus
KIDS EVENT
In 2007 I was minding my own business swimming laps a couple days a week and mountain biking to stay in shape. But these sports, on my own, weren't getting the workouts that I needed. So I started running for the first time in my life. Within a year I had finished my first full marathon. In 2008 a friend, with whom I swam on the high school swim team, asked me to join him at a Master swim practice. He mentioned a group that was getting together to transport disabled individuals around at triathlons and he wanted me to be a part of it. That was the beginning of My Team Triumph. My experience with that proved life-changing, as I had been bitten by the triathlon bug. I have worked my way up to multiple Half distance tris, multiple marathons, and a few bike races each year. My down time is spent with my two teenage boys and as a financial advisor with Ameriprise Financial Services.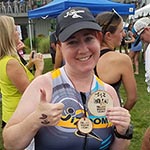 Lori Ott
ADMINISTRATIVE
This is my fifth year on the staff of the Grand Rapids Tri. In 2013 it was my first triathlon as an athlete and it's still my favorite course. Up until this year, I've been a Sprint distance triathlete, but I'm changing my game up a bit as I work towards earning the West MI Endurance Award this year. After months of training for my first 70.3, I have a whole new appreciation for the athletes who do longer distances. I'll be looking forward to crossing that finish line. When not working on organizing triathlons throughout the year, I'm busy organizing the lives of my three sons (10, 15, 15) and enjoying adventures with my husband of 23 years.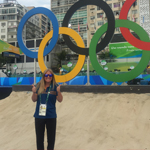 Chelsea Montes
SOCIAL MEDIA & MARKETING
I am new to the Grand Rapids area after moving here in July. Originally a Traverse City native, I have lived in many places such as Minnesota, Colorado and even Ecuador, but I am very excited to finally be back in my home state. While I have not officially competed in a triathlon myself, I have a love for the triathlon world and community after working and traveling as a Media Delegate and Social Media Manager for the International Triathlon Union for over four years. One of my most memorable triathlon moments of my career was witnessing Gwen Jorgensen win the very first Gold Medal for the USA at the 2016 Rio de Janeiro Olympic Games. I am excited to join the MiTi and GR Tri team and hopefully, with some swim lessons, my goal is to compete in my very first triathlon this summer!